Final plan now available
The final version of Laurel's comprehensive plan, as approved by the Mayor and Council on October 16, 2017, is available below. The plan is intended to be read not just by planners but by citizens, business owners, town leaders and people who just want to learn more about Laurel.
This version includes minor typographical changes and corrections requested by the Office of State Planning Coordination in January 2018.
The plan lays out the town's past and present and envisions its future. It includes recommendations for transforming Laurel into a town where more people will want to live, work, locate a business, visit and enjoy the outdoors. It is not intended to gather dust on a shelf but to be a living blueprint for responsible growth.
Just click on the plan below to view it full screen.
What is a comprehensive plan?
Delaware requires municipalities to update their comprehensive plan every 10 years.  Laurel's current plan is dated 2011, but the town decided to pursue an update so it will reflect all that is happening in the town, including the Ramble, downtown revitalization, an economic development focus on nature/heritage tourism, and other developments. The Laurel Town Council officially launched the comprehensive planning process at its March 7 meeting. They created a plan advisory team to provide feedback and help establish guiding principles for the plan.
The state requirements for a comprehensive plan are listed here.
At its fourth meeting on July 21, 2016, the Laurel Plan Advisory Team adopted a set of value statements to guide recommendations in the plan and future decision-making by the town. The plan was drafted by Cedar Creek Planning and Communications of Sussex County, with support provided by the Delaware Economic Development Office's Neighborhood Building Blocks fund.
As we move forward, this page will include all kinds of information for anyone interested in Laurel's future.
Comprehensive Plan presentation
A version of this presentation was presented to Laurel Planning and Zoning Commission and the Laurel Redevelopment Corporation Board and will be presented to Town Council on Tuesday, Feb. 21.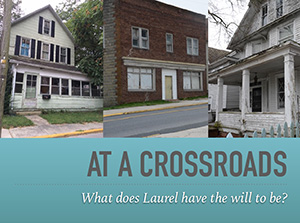 Click on image to view the presentation. 
A plan that reflects the people's vision for their community
The plan was built through engagement of the public, including meetings of the Laurel Plan Advisory Team and an online survey that generated 355 responses. You can view the complete results of the survey below.
Click edit button to change this text.