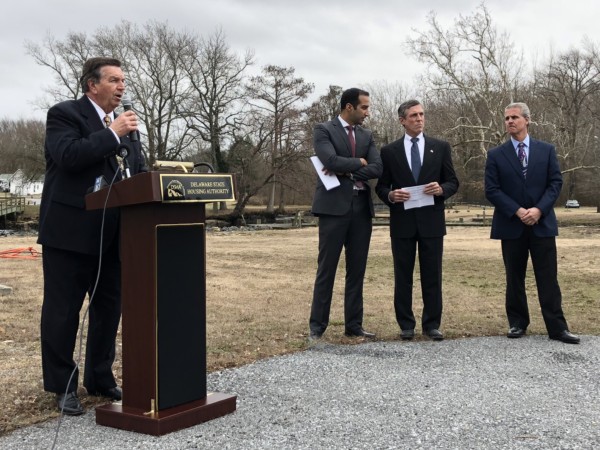 From left, Mayor John Shwed, Delaware State Housing Authority Director Anas Ben Addi, Governor John Carney and developer Mike Meoli at the announcement of Laurel's first large Downtown Development District grant. 
Governor John Carney announced on Feb. 19 that developer Mike Meoli would receive a rebate of more than $400,000 for completing The Villas on Broad Creek. Meoli plans to build 10 waterfront townhomes and expects to begin in June.  The rebate leverages a significant private investment and will be a boon to downtown Laurel.
Laurel's Downtown Development District includes the business district, Broad Creek waterfront and the residential area between Pine Street, Sixth Street and the railroad tracks. That designation makes it easier and more attractive to invest in Laurel's business district, Broad Creek waterfront, and surrounding historic homes.
Whether you are a developer, existing business owner, or current resident who would like to upgrade your historic home, being in a Downtown Development District will help make your investment pay off.

The final draft of Laurel's 10-year comprehensive plan update has been distributed - and uploaded to this website. It reflects the many comments, concerns and recommendations of Laurel's Planning and Zoning Commission, Mayor and Council, and state agencies such as DelDOT, DNREC, Department of Agriculture, and the Office of State Planning Coordination. The plan and its recommendations still adhere to the Guiding Principles established in July 2016 by the Laurel Plan Advisory Team, with Mayor [...]
If you are a property owner within Laurel's Downtown Development District, save this date: Tuesday, September 26. The Town of Laurel is sponsoring a DDD Workshop at the Laurel Public Library. The session will be 5:30 to 7:30 p.m. The Downtown Development District offers an array of incentives to businesses and homeowners to encourage them to rehabilitate their properties, or build something new on vacant land. The incentives include state grants, property tax abatement, sewer/water [...]